Electrical Panel Services in Wichita
Reddi Electric provides comprehensive service for residential electrical panels (aka breaker boxes). Our electricians are licensed and insured for all types of breaker repairs and service panel upgrades.
What's the Difference Between an Electrical Panel, Fuse Box and a Breaker Box?
The terminology used to describe electrical components can be confusing. Generally speaking, "fuse boxes" are not used anymore. New homes have replaced fuses with circuit breakers. Circuit Breakers are housed in what is often called a breaker box, electrical panel, or service panel.
The electrical panel is where power enters your home. From their, it is distributed to outlets, fixtures and appliances throughout the home. Most homes have one electrical panel, but it is possible to have additional sub-panels.
Electrical panels are typically designed to handle the amount of power that is needed in the home at the time of construction. If power needs change in the future, you may need to upgrade the panel.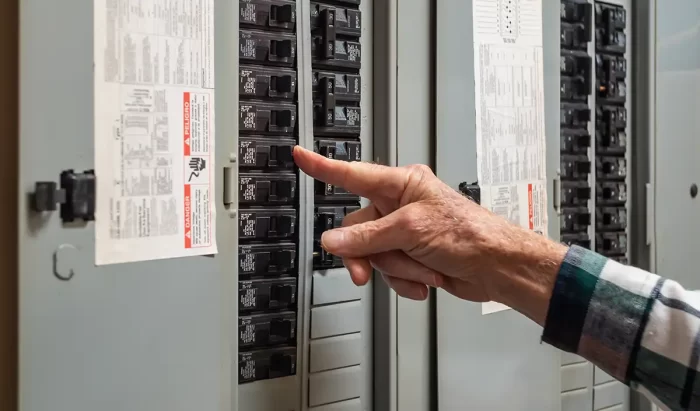 Electrical Panel Repairs
Breaker boxes don't often require repairs. Old components, power surges, and upgrades within the home are often the reason for repairs. If you're having issues with frequently tripping breakers, power surges, power outages, or visible damage to electrical components, give us a call to schedule a repair. Our electricians have the experience and training to ensure safe and efficient operation.
Breaker Box Upgrades
If your power needs have changed, or if you have a 20+ year old electrical panel you may need an upgrade. Adding a new appliance, installing a hot tub, or powering a home expansion are common reasons for upgrades. We install electrical panels for new and existing homes in the Wichita area.
Reasons to Upgrade an Electrical Panel
Breakers are tripped frequently.
You're unable to use multiple appliances at the same time.
Lights frequently flicker.
There are signs of melting, rust or corrosion in the panel.
Adding a new appliances, hot tub, or air conditioner.
The panel is 25+ years old.
You are completing a major remodel or room addition.
How Much Does Breaker Box Installation Cost?
In the Wichita area, you will find a wide range of prices to upgrade a breaker box. The cost will be at least $1000 if you hire a professional electrician. This price will vary depending on the size of the home, amperage requirements, condition of existing electrical components, and types of equipment you select. If you'd like an exact cost for your home, please get in touch for an estimate.
Can I Install a Breaker Box Myself?
Electrical panel installation, and most breaker box repairs should only be done by a professional electrician. This equipment is very dangerous. Some residential electrical work requires permits, code adherence, city inspection, and an electrician's license. Contact a professional before attempting any work on your own.
Replace or Repair Your Circuit Breaker Panel
Our highly-skilled technicians are fully licensed and insured. We provide flat, upfront pricing. If you need an upgrade in the Wichita, KS area, get in touch today.